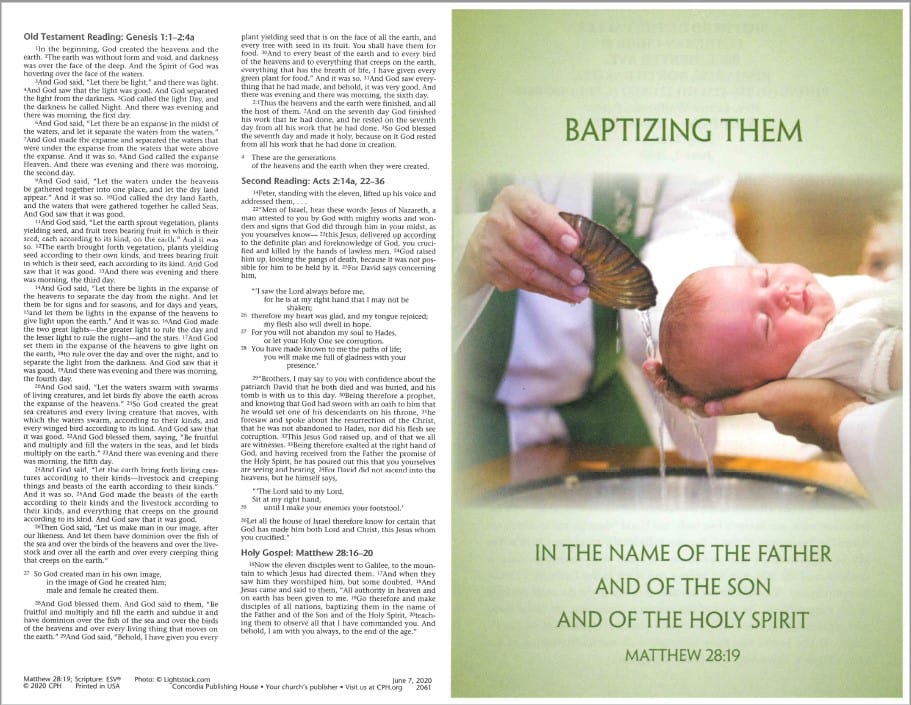 SHEPHERD OF THE VALLEY
LUTHERAN CHURCH
801 E. DENVER AVE.
BISMARCK, NORTH DAKOTA
PHONE  258-4231
Rev. Lester Wolfgram, Pastor
Vicar Dailey
Holy Trinity
June 7, 2020
| | | |
| --- | --- | --- |
| Divine Service  | Setting Three | LSB 184 |
| Opening Hymn:  | "Glory Be To God the Father"  |   LSB 506 |
| Hymn of  the Day:  | "Holy, Holy, Holy"  |   LSB 507 |
| Distribution: | "I Come, O Savior, To Thy Table"  |   LSB 618 |
|   | "The Lord, My God, Be Praised"  |   LSB 794  |
| Closing Hymn:  | "Praise  God From Whom All Blessings Flow"  | LSB 805 |
THOSE SERVING TODAY
| | | |
| --- | --- | --- |
| Preacher:  |   | Vicar Richard Dailey |
| Liturgist:  |   | Pastor Les Wolfgram |
| Elder:  |   | Kevin Olson |
| Accompanist: |   | Shirley Cook |
WELCOME!!  We are glad that you have joined us this morning as we lift up our hearts and voices in response to God's great gift of forgiveness and life in Christ Jesus.  If you are a visitor, please sign our guest book and introduce yourself to Pastor Les Wolfgram.
********************
AT SHEPHERD OF THE VALLEY LUTHERAN CHURCH we celebrate the Lord's Supper in the confidence that we receive, along with the bread and wine, our Savior's true body and blood "through and in which we  obtain the forgiveness of sins."  Besides individually receiving Christ's free gift of forgiveness in this sacrament, all those who commune make a confession of the faith that we believe and teach in the Lutheran Church-Missouri Synod.  To commune at this altar is to accept the doctrinal position of this congregation.  Because of that common confession, we invite those who are members at sister Missouri Synod Churches to join us at the Lord's Table.  If you would like more information on our understanding of the Lord's Supper, please visit with Pastor Wolfgram.
********************
THE SUMMER VOTER'S ASSEMBLY will take place on June 14 during the education hour at 9:30 am.  This will be our election meeting.  If you have an interest in serving as an elected officer or on one of our church boards, please visit with Justin Dever or Doug Hintz.
********************
PASTOR WALLA will proclaim God's Word at the mid-week service on Wednesday.
********************
THE HUMAN CARE COMMITTEE has selected Shepherd's Hill at the Crossroads as the recipient for the second quarter.  One percent of offerings through June will go to Shepherd's Hill.  The plan is to focus on Women's Care Center for the 3rd quarter.  It is hoped to have a presenter from Women's Care Center later this fall.
********************
JUNE 7TH:    REV. JARED NIES, St. John's Lutheran Church – Corliss, MN, presents the message: "In the beginning, God … Who is That?" based on Genesis 1:1-2:4a. This Is The Life program is "Give and Take" – A young Christian advertising agency representative navigates a situation with an overly attentive married man.  Main Street Living is aired each Sunday morning at 10:00am on Cable channel 594, WDAY-extra.
THIS WEEK AT SHEPHERD OF THE VALLEY
| | | |
| --- | --- | --- |
| Sunday | 8:15am | Divine Service |
|   | 10:45am | Divine Service |
| Tuesday | 7:00pm | Virtual Bible Study |
| Wednesday | *7:00pm | Worship (Pastor Walla) |
| Next Sunday | *8:15am | Divine Service |
|   | 9:30am | Voter's Assembly |
|   | *10:45am | Divine Service |
|   |   |   |